HIGH-PRECISION BLANKING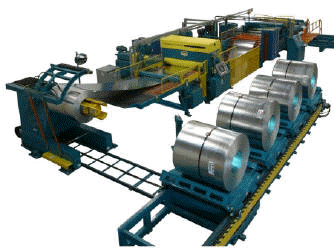 HIGH-SPEED PRECISION COIL PROCESSING
(± 0.13mm PRECISION)
MULTIPLE BLANKING and Cut-to-Length Line
The Multi-Pro® cut-to-length (CTL) and multi-blanking lines
High Speed
High Accuracy
Slitting and Edge Trimming
Leveling
Shearing
Multiple Blank Stacking

Produces flat blanks at peak speeds up to 450 FPM and will maintain cut-length accuracies of ± 0.13mm. The integrated slitting head produces multiple strips across the coil so several stacks of blanks can be produced at the same time.

Fast changeover is designed into these lines. Multiple coil staging, computerized slitter blade setup, automated shear blade clearance setting, and automatic stack divider operation make this the premier multiple blanking line for service centers.

Iowa Precision specializes in lines for prepainted and surface-critical materials. Positive and accurate servo-driven roll feeds ensure a continuous smooth and scratch-free operation.
Option for the MULTI-PRO®
MULTI-PRO® SLITTING BEFORE THE LOOP
The Multi-Pro® is a fully automated heavy duty cut-to-length, blanking and slitting line. Its closed loop servo motor drive ensures highly accurate blanks up to 5,0 mm thick coil stock up to 1830 mm wide with blank length and width tolerances of +/- 0,13 mm The variable speed drive on these multi-blanking lines provides continuous throughput from 4,6 m/min to 45,7 m/min.

Adjustable slitter knives with operator access are easily and quickly positioned. The Multi-Pro® features industrial PC-based controls allowing one operator to monitor and run the entire line. A host of accessories configure the Multi-Pro lines to meet the user's exacting blanking needs.
Other Options:

Medium-Precision Blanking Lines

MULTI-BLANKING & CUT-TO-LENGTH Lines
Don't Pay For More Than You Need! ECONOMY BLANKING LINES TO FIT YOUR BUDGET:
ECONO-SLEAR® and SLEAR-1®
MULTI-BLANKING AND CUT-TO-LENGHT LINES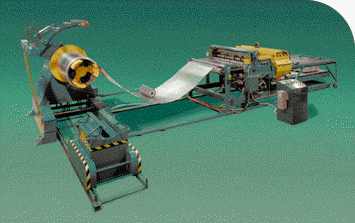 ECONO- and SLEAR-1® COIL PROCESSING LINES
Econo-Slear® and Slear-1® Cut-to-Length and Multi-Blanking lines feature the continuous production of sheet metal blanks from coil stock, consistently holding sizes and length tolerances to +/- 0,8 mm.

The Slear® family of systems slits and blanks coil stock, including mild steel, prepainted, embossed, galvanized, tin plate, aluminum, stainless steel and other ferrous or nonferrous metals.

PC-based controls for accurate, pre-set blank length and batch quantity.
Accessories such as coil handling equipment, single or double uncoilers, edge trimming, scrap choppers, and a variety of blank stacking systems
HEAVY-DUTY ECONOMY BLANKING
HEAVY-DUTY SLEAR-2®
MULTI-BLANKING & CUT-TO-LENGTH Lines
SLEAR-2® COIL PROCESSING LINE
The Slear-2® Cut-to-Length and Multi-Blanking line, ideal for heavier duty blanking of coil stock, blanks up to

Gauge 3,4 mm thick mild steel coil processing
Up to 1830 mm wide coils
Blanking rates up to 30,5 m/min
Consistent length tolerances to +/- 0,8 mm
Features:
Easily accessible for operator setup, quickly positioned slitter knives
4-roll straightening section provides flat multiples
Electronic controls for pre-setting blank sizes and batch counts
Edge trim rewinders, scrap choppers and stacking systems are available
Variable speed chain drive supplies constant-rate product output from 4,6 m/min to 100 31 m/min
A host of accessories are available for Slear® lines to custom fit the users exacting blanking needs.

These machines are used to produce
tight tolerence blanks
for manually fed or robotic fed downstream operations.
The downstream operations could include stamping, rollforming, punching, notching, wind bending or a combination of all of these operations.
The Blanking Line is at the centre of the manufacturing process.
If the Blanking Line fails, the entire plant would be shut down in a few days depending on inventory levels and operating procedures.
Many times, manufacturers are forced to out source blanks at a higher cost from a local service centre, which negatively affects the production schedules and profitability.


Email Us: sales@mftsa.co.za
Call Us: +27 (0) 83 273 8322