Steel Stud and Track Rollforming Lines
Samco is the world's leader in manufacturing Industrial Level Steel Stud and Track Rollforming lines with a proven track record so strong that 100% of the world's largest steel stud producers use Samco rollforming equipment.
The Samco studmaker incorporates the latest features in steel stud manufacturing technology.
Fast change over
The studmaker can be changed in less than 20 minutes in order to produce a different flange height, in a different gauges of material.
Stud and Track widths
The studmaker machine makes 24 hour service possible because of an electro-mechanical adjustment, on a wide range of stud and track widths.
Stud and Track Flange Heights
The studmaker is able to produce studs from 40mm to 60mm flange height by an electro-mechanical adjustment. Tracks with different leg heights can be made without roll changes.
Material Gauges
This machine can produce studs and tracks in a extensive range of material gauges.
Lip Sizes
This machine is able to make lip sizes from 20mm to 35mm.
No Flare with Pre-Shear
The flare condition that is common in pre-shear operations is eliminated with the studmaker machine.
Piercing and Cut-Off
This can be supplied with pre-pierce and pre-shear hydrex dies, which eliminate single shear dies with numerous shear blades. Hydrex dies can be supplied with high speed hydraulic valving. This can pierce 12 gauge steel on 60mm at 110 frames per minute and 20 gauge steel at 220 frames per minute. Hydrex dies can also be supplied separately as an upgrade to your existing rollform lines.
Fast Die Changes
Fast changeover is done by in-line dies and hydraulics. The ball valving can change dies in three minutes.
Upgrade to a new Samco Studmaker!
Your outdated rollformers with lengthy change over times can be replaced with a Samco Studmaker.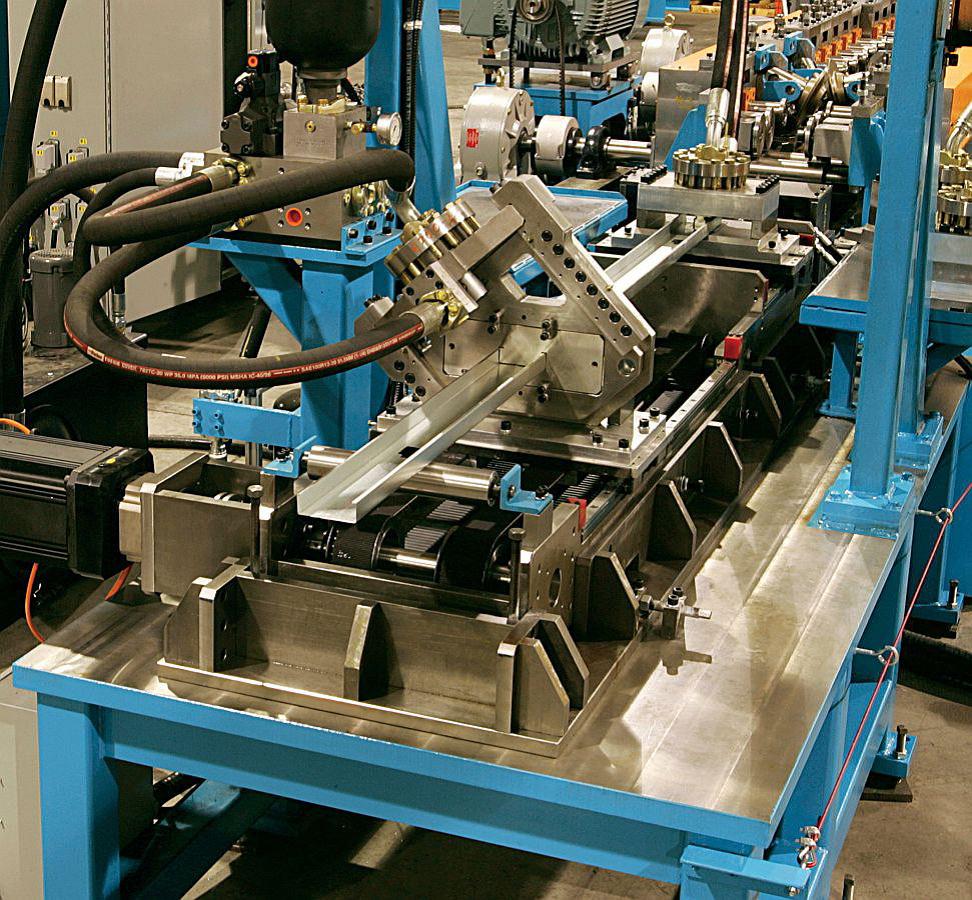 Email Us: sales@mftsa.co.za
Call Us: +27 (0) 83 273 8322