Collar Maker
Notch, bead, crimp and roll complete round starting collars, three inches to four inches in diameter out of 24 to 30 gauge galvanised in only one pass. Just cut to width and length or use scrap. This machine uses either 76mm or 152mm width blanks with simple movement of the crimping roll.
Spin Collar Maker
Make your own spin collars in minutes. Just cut galvanized stock, 24 gauge and lighter, to width and length, set the diameter from 101mm to 406mm and push the blank against the automatic stop. A synchronized die notches the lead edge for easy spin-installation on the job site. The notched piece is then pushed past the stop, feeding the part into the rollformer and finally into the automatic crimping and curling operations.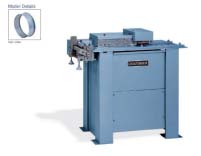 Round/Oval Pipe Machine
Available in either seven or nine station machines which fabricate both male and female forms for Reeves-type snap lock. Each lock is formed on flat sheets with no restrictions on the diameter of the finished pipe.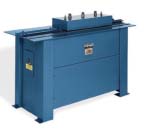 Automated Furnace Pipe Rolling System
Lockformer's advanced system produces oval or 76mm to 355mm diameter round pipe from 2' to 10' in length out of 24 to 30 gauge galvanized steel with the turn of a dial. Just feed blank material into the nine station duplex rollforming machine where male and female configurations are formed. The blank is then delivered to a two stage conveyor where it's orientated and fed into the perfect 90 degree angle to the pipe-rolling machinery. The pipe is completely finished and ready for packing into shipping bundles.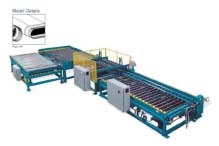 Email Us: sales@metalformingtechsa.com
Call Us: +27 (0) 83 273 8322