Speednotch Model 16
This machine allows you to gang-notch sheet metal hydraulically up to 600% faster than by hand, without layout or scribing.
It is the perfect tool for preparing ductwork to receive bar, slip or "S" and other drive connections.
Its profitability is tremendous even on a single piece set-up.
Complete self-containment provides instantaneous setting from the front for up to five notches on materials up to 16 gauge with 76mm to 6.35mm stretch out.
A foot switch permits one unskilled man to handle most notching jobs.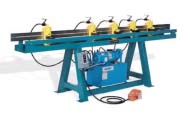 Email Us: sales@mftsa.co.za
Call Us: +27 (0) 83 273 8322