Vulcan 1000D
The state-of-the-art Vulcan 1000D features include 20 years of engineering experience. This machine's performance advantage is real proof that quality and reliability matter, especially in the HVAC industry, where labour costs are high and the work is hard.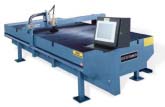 Vulcan 2900
Lockformer's Vulcan Plasma Cutting Systems are cost effective, high precision alternatives to laser cutting systems. Vulcan Plasma Cutting Systems deliver the highest quality cuts in the industry and will match tight tolerances with little edge preparation. This machine will traverse metals up to 25 400mm per minute. The powerful abilities of this system are controlled from its control panel and software.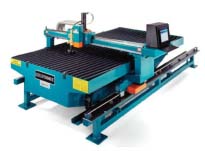 Vulcan 2900 Double Table
This machine offers all the same features as the Vulcan 2900, with the added capability to work simultaneously on two tables. While completed pieces can be removed from one table, the cutting can continue on the other table for greater productivity and faster job completion.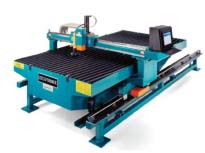 Vulcan 3100D
This machine is used in manufacturing applications for cutting sheet metal up to 1 524mm x 3 048mm and 12.7mm thick. This machine is known for its heavy duty, welded steel construction, precision linear bearings and dual side rack and pinion gear drive.
Vulcan 1600 Waterjet
This machine is designed with Lockformer reliability, to eliminate the duct liner bottleneck in your shop while reducing labour association with this process.


Email Us: sales@mftsa.co.za
Call Us: +27 (0) 83 273 8322