Econo-Slear
LIGHT TO MEDIUM DUTY COIL BLANKING SYSTEM
A low cost, easy to use, Multi-Blanking System that will remove coil set, slit to width, and cut to length in a self contained, compact unit.
Higher production is assured with the ability of this machine to make multiple slits to the material before it is cut to length.
Coil set is removed by the standard 4-roll straightener.
Specifications

Available widths 1219mm, 1524mm, 1828mm
Minimum material thickness .38mm
Maximum material thickness 2mm
Shear Strength 35 kg/mm2
Tensile Strength 47 kg/mm2
Yield Strength 55,000 psi (38.5 kg/mm2)
Roll Size 107 mm dia.
Line Speed 25FPM to 150FPM

Part Tolerance:
Length ± 3/4 mm
Slit Width ± .18 mm

Available Options
6- Roll Powered Straightener
Variable Speed Control
HVAC Beading
Recoiling
The EconoSlear systems produce blanks from coil stock including mild steel, pre-painted, embossed, galvanized, tin plate, aluminium, stainless steel and other ferrous or nonferrous metals. The EconoSlear blanking lines are equipped with IPI's electronic controls for accurate, pre-set blank length and batch quality.
A host of labour saving accessories such as coil handing equipment, single and double decoilers, edge trimming, scrap choppers and a variety of blank stacking systems make the EconoSlear the industry leader in light and medium duty coil processing systems.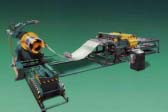 Specifications for the EconoSlear
Coil Width: Maximum 1830mm, Minimum 152mm
Material Thickness: Maximum 2.0mm, Minimum 0.4mm
Straightening Section: four roll powered straightener, six roll powered straightener optional
Drive: Two speed electric motor and gearbox


Email Us: sales@mftsa.co.za
Call Us: +27 (0) 83 273 8322