To meet the international standards for longitudinal welded large diameter pipes in the oil and gas industry, Fontijne Grotnes is active in designing and manufacturing of mechanical Full Length Pipe Expanders for more than 40 years.
The Full Length Pipe Expander is in use with well-known LSAW pipe manufacturers all over the world.

A Full Length Pipe Expander is one of the essential machines in the production process of LSAW pipes.
Tolerances for ovality and straightness of pipes are becoming increasingly important to the later laying of pipes in the field.
The pipe expander process makes the welding of the pipeline in the field, even cut pipe sections, much easier.
Fontijne Grotnes is constantly improving and preparing the Full Length Pipe Expander process for new market demands, like higher outputs, thicker wall thickness', higher material grades up to X120, stricter ovality and straightness tolerances.

Fontijne Grotnes' latest innovation for this market is a new straightening system, which is especially designed for small pipes ranging from 406mm - 762mm.
This new system controls the straightness of the pipes in all directions within ½-API-, ISO and DNV-standards.
It is designed in such a way that it can also be mounted on existing expanders.
For larger pipes ranging from 812mm - 1625mm, a software controlled infeed straightening system has been developed.
Design features:
Proven design for maximum drawbar pull of 1.000 and 1.500 ton
Production rates up to 35 pipes/hour possible with a single type Full Length Pipe Expander
Position control for regulating the various modes of expansion and to control the stroke of the main cylinder in both directions
State of the art controls by constant new developments
The Full Length Pipe Expander can be extended with pipe handling, pre- and/or post-washer equipment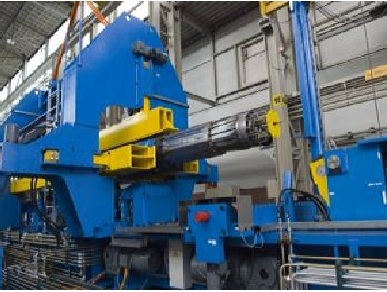 Email Us: sales@metalformingtechsa.com
Call Us: +27 (0) 83 273 8322